Important Note: In October 2022, the government of Kenya established a taskforce to collect public views on the implementation of the Competency-based Curriculum (CBC) and make recommendations. The collection of public opinions was concluded in November 2022. The government is currently reviewing the findings. Once this process is completed, we will update this article to include the changes that will be made to the curriculum.
A competency-based curriculum (CBC) is used in Kenya to deliver learning and evaluate the strengths and weaknesses of learners. CBC is the country's new education system introduced in December 2017. Under this system, each learner's progress is monitored over a period of 2-6-3-3 years, evenly divided into three major levels of education: 
Early years education

 

Middle school education

 

Senior school, tertiary, and university education.

 
In this article, you will learn more about the lower primary curriculum where learners receive their early years of education. You will also learn more about the registration and assessment process, learning areas, and scoring of learners at this level. 
Before joining lower primary, children are expected to complete their pre-primary education which starts at the age of 4. Click here to read more about the requirements, learning materials and learning areas for pre-primary education.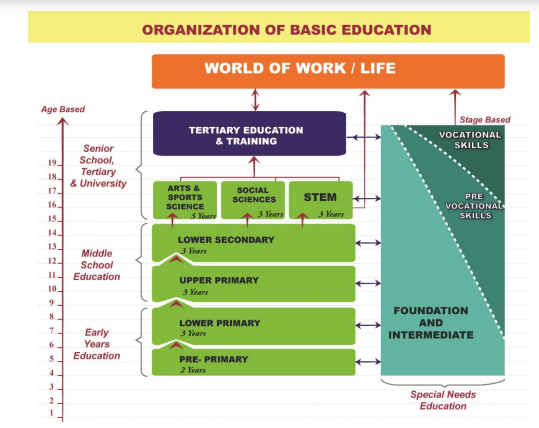 Graphic: An illustration of the levels of education under the competency-based curriculum (CBC) in Kenya. (Source: KICD) 
Learners enter lower primary school after completing two years of pre-primary education (PP1 and PP2). At lower primary, learning is divided into grades 1, 2 and 3. This is a continuation of a child's early years of education. 
Lower primary learners' expected ages 
Grade 1 – learners aged 6

 

Grade 2 – learners aged 7

 

Grade 3 – learners aged 8

 
Learning areas in grades 1, 2, and 3  
Literacy activities or braille literacy activities for learners with visual impairment

 

Swahili language activities or Kenya Sign Language (KSL) for learners with hearing impairment

 

English language  

 

Mathematical activities such as counting

 

Environmental activities

 

Hygiene and nutrition activities

 

Religious education - Christian religious education, Islamic religious education or Hindu religious education.

 

Movement and creative activities such as playing games, music, art and sports

 
In the final year of lower primary schooling, all grade 3 pupils are expected to register and be enrolled in a national assessment. Teachers conduct the assessments in a well-structured process that is guided by the Kenya National Examination Council (KNEC). 
All the registered learner's scores in the assessment are uploaded to an online national examination council portal. KNEC is the national body responsible for overseeing national examinations in Kenya. You can learn more about KNEC here. 
Graphic listing the learning areas for grades 1, 2 and 3 in Kenya (Source: Julisha.Info) 
Registration and assessment at lower primary - grade 3 learners 
The identification and registration of grade three learners for assessment is the responsibility of the school and must be completed on the KNEC portal by teachers. 
The KNEC portal for grade three assessment keeps each learner's biodata. This includes: 
Child's official names, in full as they appear in their birth certificate

 

Gender 

 

Birth certificate number 

 

Date of birth 

 

Citizenship 

 

Disability (if any)

 
Following the grade 3 assessment Kenya Early Years Assessment (KEYA) exams by KNEC, the learners begin their upper primary education in grade four. More information on upper primary education (Grade 4, 5 and 6) can be found here. 
Reporting and scoring of learners at grade three 
Unlike in the past when learners were graded using marks, the CBC system uses a different approach to monitor learner capabilities. Lower primary pupils complete tasks individually and in groups to demonstrate their strengths and abilities. Teachers will then observe and document each learner's performance based on evidence-based abilities. Learners will be graded as follows: 
Exceeding expectations

- The highest score awarded when a learner correctly performs or completes all activities as expected in each learning area.

 

Meeting expectations

- The pupil correctly follows instructions; they properly perform tasks and complete most activities in each learning area.

 

Approaching expectations

– Learner attempts to follow instructions but is inconsistent with completing tasks or activities in the different learning areas.

 

Below expectations

– where a learner is observed to have major inaccuracies or inability to complete tasks as instructed by the teacher.

 
Grade 3 national assessment fees 
The Government of Kenya pays all the examination fees for the KEYA assessment of Kenyan learners at grade 3. UNHCR and other partners in the refugee camps pay for refugee learners.  
What to expect from a child after completion of lower primary education.  
By the end of early years education, the child should be able to: 
Appreciate own and others' artwork, music and movement activities from the past and present within their social context and cultures.

 

Express feelings, ideas, emotions and experiences through artwork, music and movement activities.

 

Develop self-confidence and sense of achievement through making and responding to artwork, music and movement activities of self and others.

 

Create artwork, and perform music and movement activities to share their ideas, thoughts, feelings and experiences for learning and enjoyment.

 

Use appropriate language in responding to artwork, music and movement activities for communication and collaboration.

 

Obey rules and cooperate with others to accomplish individual responsibilities while paying adequate attention to own health and safety.

 
You can read more about the lower primary education curriculum on the Kenya Institute of Curriculum Development (KICD) website or engage teachers in school. 


If you have any questions, please write to us via the Julisha.Info Facebook page, or chat with us on WhatsApp (+254110601820) Monday to Friday from 08:00 a.m. to 5:00 p.m.