What came to your mind when you heard of the word maternity? Is it pregnancy or a baby?
Maternity is more than just the pregnancy and the baby.  Maternity services include all the health supports to ensure the good health of the pregnant mother, newborn baby, and their families. The service started from the pregnancy and continued until six weeks after the birth.
Besides maternity health support from the hospital, family members should also help pregnant mothers. This means you also have a role to play in ensuring that the mother and the unborn baby are safe.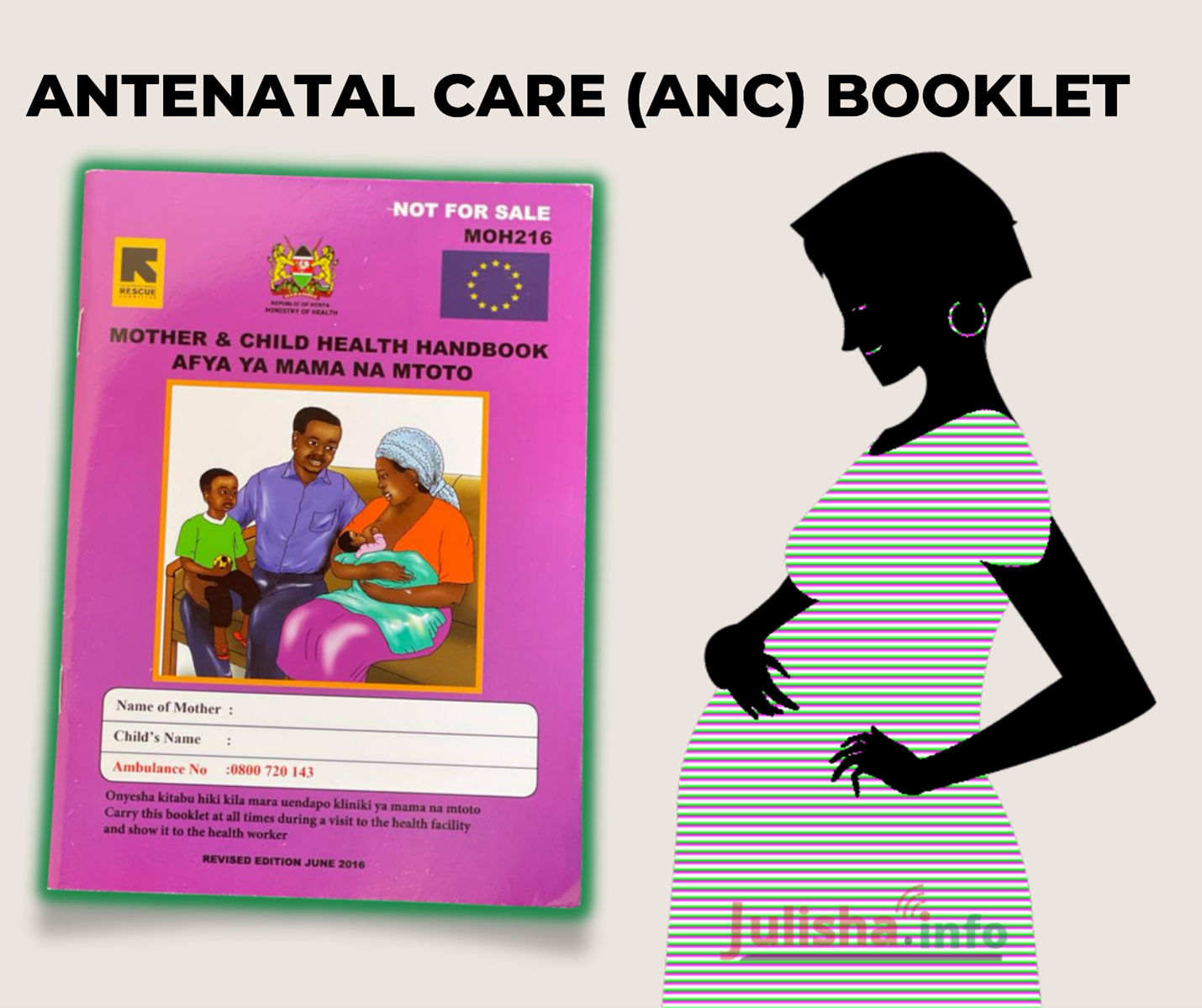 Graphic 1: A graphic showing an ANC Booklet and a pregnant woman. This is a key requirement when seeking maternity services at the Hagadera Hospital. Julisha.Info/The IRC.
Do you know that you can receive  10 free maternity services at the Hagadera Hospital?
Please read the article to know more about the 10 free different types of maternity services.
Normal Delivery Services
Hagadera Hospital provides normal delivery services for pregnant mothers. The hospital has a team of female and male nurses, translators, and doctors who ensure a safe birth. This service is available all the time.
The hospital provides the ANC Booklet for pregnant mothers. Once they are conceived, they can receive it from the main hospital's ANC section of the Outpatient Department (ODP) and Health Post E6 and L6. The ANC Booklet/Card record a mother's health information during their pregnancy
IRC offers free ambulance services to help mothers to receive safe delivery services at the Hagadera Main Hospital. The IRC ambulance operates during the day between 6:00 am, and 6:00 pm. A community ambulance is also available to support mothers at night.
To receive the ambulance service:
Call Toll-Free number 0800 720 143 ( 6:00am-6:00pm)
For night services, call 0704 600 513 (6:00 pm-6:00 am). Normal call charges will be applied for the night ambulance call
Breech Delivery
Breech delivery support is offered to mothers when their unborn baby is not properly prepared and positioned to come out as expected. In most cases, breech deliveries are done when the other body parts such as the feet or buttocks of the unborn baby come out first. mother and the baby out of danger.
You will need to carry your ANC Booklet to the hospital. In the event that you do not have the booklet, the hospital staff will still attend to you. Thereafter, you will be asked to get your ANC Booklet from the ANC section of the Outpatient Department at the hospital.
Assisted Vaginal Delivery
This service is mostly offered to mothers who cannot push the baby and when the fetus is tired and less active. Nurses use specialized tools to support mothers delivering through assisted virginal delivery.  This helps the mother to deliver faster.
You will need to carry ANC Card to the hospital.
Caesarean Section – CS
Hagadera Hospital offers caesarean section  services to mothers with their and their family members' consent. Caesarean Section is the process of the removal of the baby from the mother's abdomen through a surgery.In most cases, a mother has to undergo  a ceaesarean section when their life and that of a child is facing a greater risk. Highly qualified doctors and nurses perform the caesarean sections on a 24-hour basis.
You will need to carry ANC Card to the hospital.
The IRC Hagadera Hospital offers post abortion care to mothers who lost their babies before they were born.  This service ensures that the mother does not lose more blood, do not get infected. The Post Abortion care prepares them for quick recovery.  The mother will also receive counseling services.
High-Risk Clinic Services
High risk mothers are those who have any condition that puts their lives and that of their unborn babies at risk.  Some of the high risk conditions include high blood pressure, anaemia, rhesus negative blood group, previously lost pregnancies, mothers who have undergone cesarean sections previously. The high-risk mothers receive special attention at Hagadera Hospital through 'High-Risk Clinic Services'. A specialized medical team runs the services. The service is available from
Graphic 2: IRC Hagadera free day and night ambulance contacts. Julisha.Info/The IRC.
Maternity Referrals
IRC works with the Department for Refugee Services (DRS), UNHCR, and Garissa County Government to help mothers who require maternity services that are not readily available at the Hagadera Hospital. These are mostly mothers with special conditions that have to be handled by specialist doctors stationed at the Garissa County Referral Hospital. Mothers who have delivered more than twice through the caesarian section are also referred for specialist care.
The mothers will be asked for their ANC Card, Proof of registration (Manifest), and their Alien Card to go for a referral.
IRC, in collaboration with DRS processes a movement pass allowing the mother to seek treatment outside Hagadera refugee camp.
Family Planning
IRC offers child spacing education, counseling, and medication to mothers at the   Hagadera Hospital, at the ANC OPD and its two health posts E6 and L6. Here, mothers practice proper child spacing to understand their family needs better and manage their family's size. A mother will be asked to have their ANC Booklet and a Family Planning Card when seeking these services.
Neonatal Care
Newborns are closely monitored and treated by nurses and doctors at the Hagadera Hospital. These services are offered at the Maternity section and ANC OPD main hospital and the health posts E6 and L6.  In some cases, babies are also referred to Garissa or Nairobi for specialized care with the support of the IRC.
Birth Notification Issuance
A Birth Notification is a vital document for your child's identity. At the Hagadera Hospital, nurses or designated staff maintain a record of all newly-born children in a birth register. The hospital provides an Acknowledgement of Birth Notification. This document helps to Issue Birth Certificates.
You can learn how to obtain a birth certificate for your child here.
If you have any questions about maternity services for refugees in Kenya, please write to us via the Julisha.Info Facebook page, Monday through Friday from 08:00 a.m. to 5:00 p.m.