A KRA PIN is a Personal Identification Number issued by the Kenya Revenue Authority (KRA) to Kenyans or Non-Kenyan residents essential for opening a bank account, getting a job and doing business in Kenya.  
According to KRA, some of the most popular transactions that require a KRA PIN include;  
Application for a business permit.

Registration of business names and companies. 

Trade licensing – a trade license is a formal authorization that you will require to do business. This is issued by the county government.

 

Application for Value Added Tax (VAT) registration – under the Kenyan laws, this is mandatory for persons who have supplied or expect to supply taxable goods worth Kshs. 5,000,000 and above within 12 months. You can learn more 

here.

 
 KRA only issues one PIN Number to each person and it can only be used by the person to whom it was issued and cannot be shared at any given point.  
In this article we will guide you to obtain a KRA Pin Number as a refugee in Kenya. 
How to register and get a KRA PIN online 
To register and obtain your KRA PIN from the Kenya Revenue Authority, please note that you need to have your Refugee Identification Document (ID)  
If you are set with this document, follow the steps below to register for your KRA PIN.  
Visit the Kenya Revenue Authority self-service portal (iTax) by clicking 

here 

 

 

Select "New PIN Registration"

 

Select "

Non-Individual

" and "

Online Form

" as your mode of registration and click 

'next.'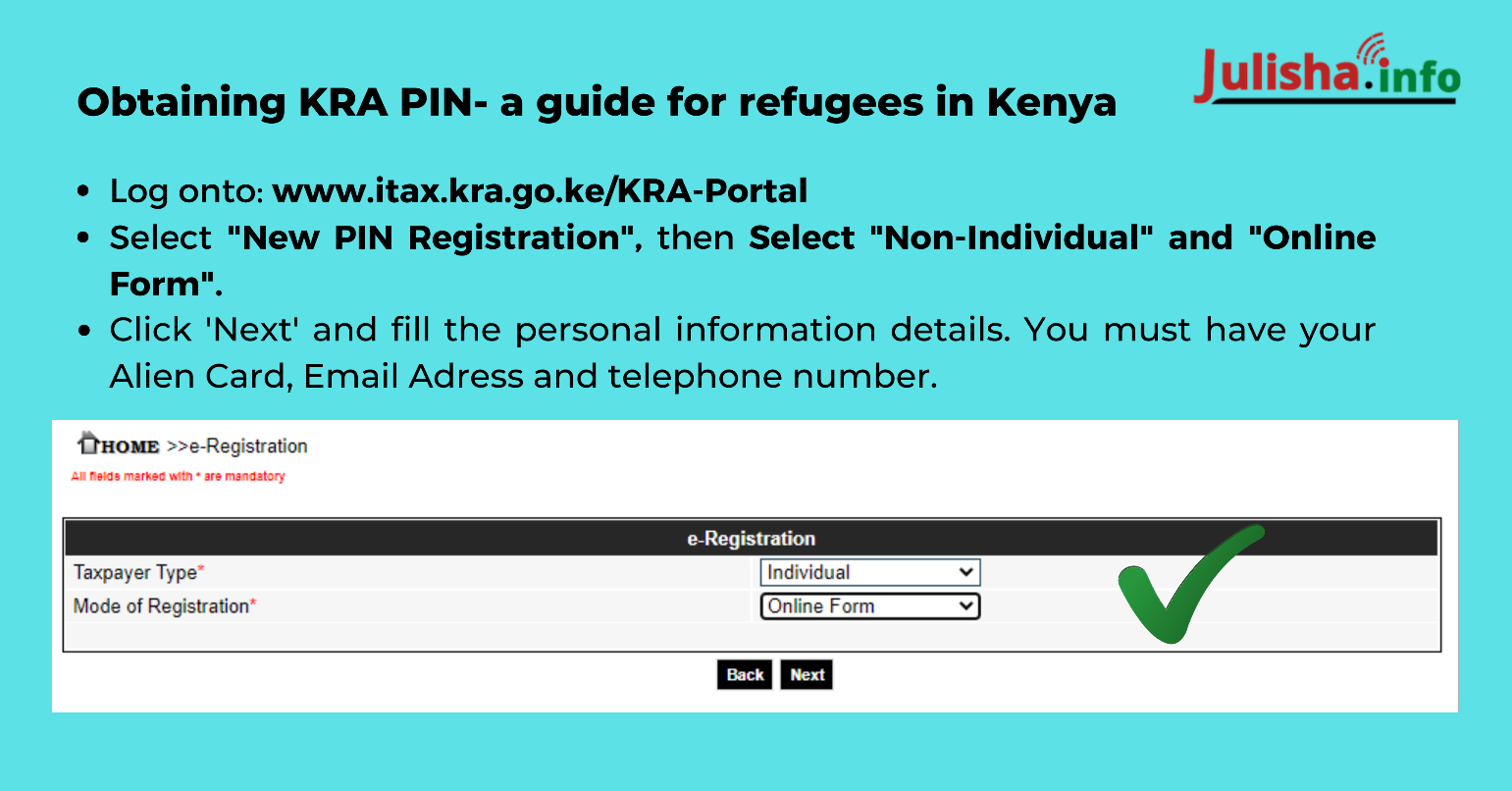 Fill in your basic information, choosing 

'Non-Kenyan Resident'.

Select suitable tax obligation by checking the relevant boxes. 

NOTE: 

Do

 NOT 

tick

 

YES on the section asking if 

you want to you want to register for Turnover Tax

 

 (TOT). 

Only say 

YES

 if you meet the requirement for paying 

(TOT)

 because TOT is only payable by residents whose gross income from business is more than Ksh1,000,000 and does not exceed or is not expected to exceed Ksh50,000,000 in any given year.

 
Enter details of your area of work or profession from the options available on the system.

 

Fill in your Refugee ID Number, date of birth, gender, and country of origin.

 
Indicate your physical address and postal address. Add your contact details in the provided fields. Note that an 

email Address

 and 

phone number

 are mandatory.

 

Complete the Yes and No questions below your contact details and attach scanned copies of your Refugee ID) showing both sides. This is a mandatory step.

 
 Upon completion of the above steps, you will receive an acknowledgement receipt which they you will need to present to Times Tower, alongside other relevant documents, to complete your KRA PIN registration process. 
 Please note that all refugee KRA PIN applications can only be completed at the KRA offices located on Times Tower in Nairobi along Haile Selassie Avenue. The offices are open on workdays between 8:00am and 5:00pm. You can reach the KRA call Centre via mobile number +254770631827. KRA can also be contacted on social media using  Twitter and Facebook. 
 If you choose to contact KRA on social media, remember to protect yourself online! For your safety, you should not include your phone number, email, PIN, ID or other personal information in a public post/timeline. Instead, send direct message.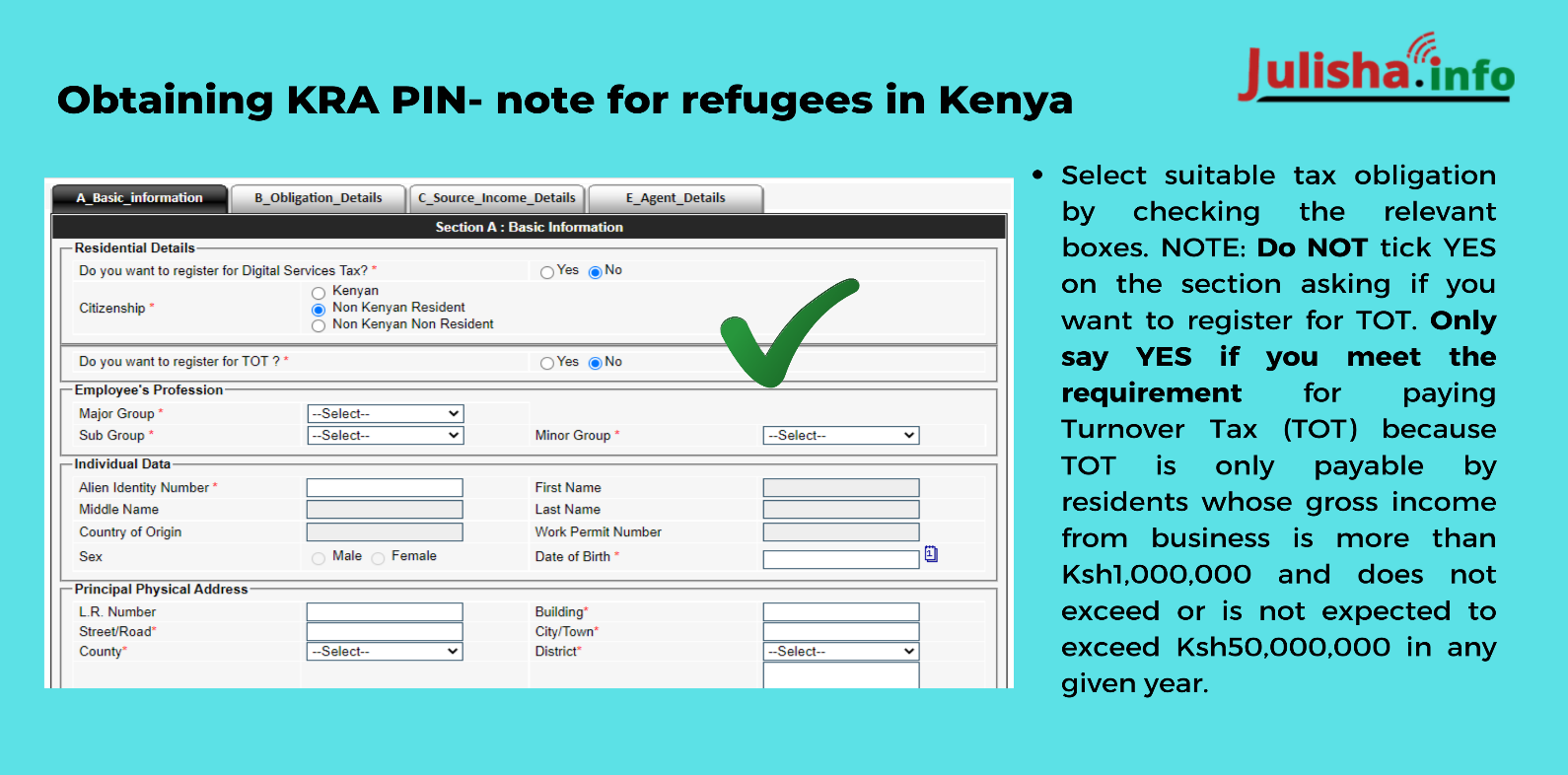 What are the documents required to complete the process at Times Tower? 
The process of verification at Times Tower is the final step in getting your KRA PIN certificate. On your visit to the KRA Officers at Times Tower, you will need to carry your: 
Original and Copy of a valid Refugee ID or Alien Card (Validity is now 5 years.)

 

Introduction letter from

 

Refugee Affairs secretariat.

 

Letter from 

e

mployer if you are employed.

 
Business Registration Certificate if you are in business. You can learn how to obtain your Business Registration Certificate

 

here

.

 

Work permit from the 

Immigration

 department (Class M permit). A class M permit is issued to a person who has been granted refugee status in Kenya in accordance with the refugee 

law of Kenya and any spouse of such a refugee who intends to take up employment or engage in a specific occupation, trade, 

business

 or profession.

 

KRA PIN application acknowledgement receipt received at the end of the process describe earlier in this article.

 
 Once you have presented these documents, KRA officials will verify and issue you with a KRA PIN certificate carrying details of your identification and physical address as provided in your application. 
If you have any questions, please write to us via the Julisha.Info  Facebook page, Monday to Friday from 08:00 a.m. to 5:00 p.m.