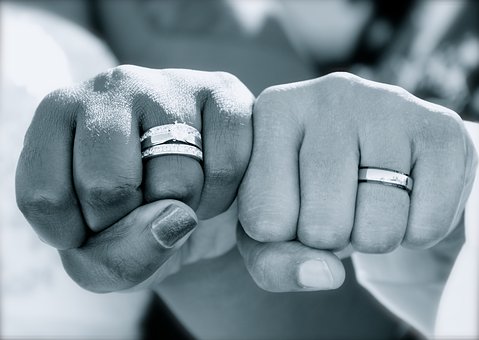 There are instances, such as when applying for a visa, a passport, or a work permit, or when registering a joint bank account when, as a refugee person in Kenya, you will be required to prove that you and your partner are legally married. It is therefore important to have a supporting document as soon as you get married.
This article will take you through the requirements of a marriage in Kenya.
The Marriage Act (2014) recognizes the following systems of marriage:
Civil Marriages
Christian Marriages
Hindu Marriages
Customary Marriages
Islamic Marriages
What do you need to register a marriage?
To get married in Kenya, you need to be:
18 years and above
In a relationship with someone of the opposite sex
Not married or in a civil partnership with someone else
Able to understand what marriage means and agreeing to it (consent)
Civil, Christian and Hindu marriage
For Civil, Christian or Hindu system of marriage, you are required to give a written notice of at least 21 days to the Registrar of Marriage.
Both parties should appear before the Registrar to fill a Notice form and attach the following documents:
Valid Alien card/Refugee ID or a waiting slip (Copy and original)
One colored passport-size photo for each Applicant
Copy of Death Certificate (if widow or widower)
Copy of Divorce Decree Absolute (If the partner had been married before and divorced)
A sworn affidavit to confirm marital status in the event the Divorce Decree or the Death Certificate is more than 2 years old.
Copy of license for the Minister of Faith
Provide serial number of the marriage book to be used (to be obtained from the Minister of Faith)
Wedding invitation card
Refugees who do not possess a refugee ID or a waiting slip but wish to register their marriage can use their Manifest.  
The couples must have attained the legal age of marriage [18 years] for the marriage to take place.   The marriage must be solemnized with a ceremony/celebrated within 90 days from the date of notice.
After the 21 days notice period is over and no objection to the marriage has been raised, you will swear an affidavit as directed by the Registrar of Marriages who also commissions the affidavit and completes a Marriage Certificate form.
In Kakuma, you can visit the office of the Assistant Registrar of Marriages in Lodwar at The Turkana County Commissioner's office. Marriage registration services are also available in Daadab at the Garissa County Commissioner's office and on the Ground Floor of Sheria House, Harambee Avenue, Nairobi CBD.
How much does marriage registration cost?
You will be required to pay Ksh 600 for filing the "Notice of Marriage" form
After the 21 days' notice period is over and no objection to the marriage has been raised, you will need to appear before the Registrar for interview and verification of original documents
Ksh 600 to fill a Notice of Marriage at the office of the Registrar of Marriages.
Pay Ksh 2700 after the 21 day notice period. This fee caters for an affidavit, marriage certificate and the marriage solemnization ceremony. The breakdown is as follows:
Marriage Solemnization Ceremony – Kshs.2,000.00
Marriage Certificate – Kshs.500.00
Commissioning – Kshs.200.00
For Civil marriages that are conducted by a Registrar of Marriages outside the Registrar's office , the applicant will pay an extra Ksh 16,500.
Islamic Marriage
A marriage between refugees of Islamic faith is officiated by a Chief Kadhi or a Sheikh/Imam authorized by the Registrar of Marriages.
The Kadhi will then deliver the details of the marriage to the Registrar for the registration.
Marriage Contract Conditions
Consent - Both the groom and the bride must consent to the marriage, both verbally and in writing. This is done through a formal proposal of marriage (Ijab) and acceptance of the proposal (Qabul).
Mahr – Best known as dowry or bridal gift.
Witnesses - Two adult witnesses are required to verify the marriage contract.
Parties should be 18 years and above.
The parties must be sane.
Wali - a male guardian who looks out for the bride's best .
The Wali must be present at the solemnization ceremony (Nikah) and his name, ID number and signature will appear in the marriage certificate. Even so, the bride must also express her willingness to enter marriage.
How much is the marriage certificate?
Ksh 1,000 for a marriage certificate.
Ksh 1,000 is charged for application process.
Ksh 3,000 for the Solemnization Ceremony (Nikah).
Ksh 3,500 for Solemnization Ceremony (Nikah) of a marriage between a non-refugee/local and a refugee.
This means that if your marriage took place according to Islamic rites but there was no Kadhi present, the Kadhi's court can help you to process a marriage certificate once the Kadhi is satisfied that the marriage was validly performed.
 After the marriage ceremony, the marriage certificate is processed within a day.
Other conditions specifically for refugees?
One should have a valid UNHCR Refugee Mandate or Alien card.
The couples should not be relatives.
Looking for free legal advice and assistance in registering their marriage or divorce process? You can reach out to Kituo Cha Sheria for support. 
Kituo Cha Sheria is a legal aid organization in Kenya that provides free legal services to those who cannot afford them. The organization has offices in Nairobi, Mombasa, and a branch office in Nairobi's Pangani area, providing accessible legal support to individuals and communities across the country. 
Head Office  
Kituo Cha Sheria's head office is located at the junction of Ole Odume road and Argwings Kodhek road, opposite the Bangladeshi High Commission. You can contact the head office by calling 0734 874221 or 0727 773991, or by emailing info@kituochasheria.or.ke.  
Mombasa Office  
For those living in Mombasa, Kituo's Coast Region office is located on Taratibu Street in Tudor, near the Technical University of Mombasa and adjacent to the White Rhino Hotel. You can reach the team by calling 0731 129739 or 0700 638379, or by emailing msa@kituochasheria.or.ke.  
Pangani Branch Office  
Kituo Cha Sheria also has a branch office in Nairobi's Pangani area, located at KCDF House, 4th Floor, Chai/Pamba Road, off Juja Road. The Pangani branch office can be contacted by calling 0736 867241 or 0720 806531, or by emailing fmp@kituochasheria.or.ke. 
You can also send your legal concern as a text message in English or Swahili to 0700777333 and wait for a response from Kituo's legal experts.  
If you have any questions, please write to us via the Julisha.Info Facebook page, Monday to Friday from 08:00 a.m. to 5:00 p.m.