Do you want to start your own business in Kenya and need information on how to start?  
Are you willing to launch your own business in Kenya, and you do not know how to start?  
Congratulations! This article is going to walk you through everything you need to know about why it is important to register your business and how to do it.  
In Kenya it is important to register your business. If you do not, you will face arrest by county government officials and prosecution in a court of law. You will not be issued with a business license for your business unless it is duly registered. Unless you are licensed, your business will not be allowed to operate, and it will be closed for failure to comply.
There are benefits of registering your business, these include but are not limited to: 
Identity

 - Once you have registered your business, it acquires a unique identity. 

A business cannot share the same identity with another business.

 

Safety and security - 

Registering your business separates you (owner) from risks involved in doing business. This way, the business can attract more partners, investors and can even be insured.

 

Continuity - 

In the eventuality that the owner of the business dies, the business still lives on. 

One's

 next of kin or partner can take over and continue with the 

business.

 

Growth - 

It is increasingly easier to grow your business once it is duly registered. With registration, you can have a bank account for your business, and this can enable you get access to credit that can help you expand it. Registering will also help you to separate your personal income from that of the business.

Trust - 

Generally, clients and suppliers easily develop trust for a business that they know has been registered in Kenya. Upon registration, your business is declared legal. Registration also makes it possible to have investors.

 
Kenyan citizens and foreigners are eligible to register a business in Kenya. This means it is possible for a refugee to register a business in Kenya and engage in income-generating activities. 
What type of business can you register in Kenya? 
The most common types of businesses that can be registered are,  
Sole proprietorship

-

This is a business that has one owner. You make all the decisions. As the owner

, 

you are responsible for profits and losses in the business.

Partnership 

-

A partnership is a business owned and run by two or more people who have a common view of making a profit that is shared.

Limited Liability Partnership

 

(LLP)

-

LLPs are special business structures. It protects individual partners against the negligence of other partners in the business.

Company (Limited Liability)

 
Private company: Is mostly fully owned by the people who start it. Members of the public are not invited to buy shares or portions of the company. Funding is sourced privately by the founders or owners.           
Public company: Is a company that has sold all or part of its business to the public in the form of shares. Such companies can raise funds through the sale of shares to the public. The buyers become shareholders and are eligible to share in the company profits and participate in decision-making. 
Below is a summary of steps to register a sole proprietorship in Kenya 
Here are detailed steps to register a business that you fully own and control (Sole Proprietorship). 
Go to the Kenyan government citizen services portal by clicking here and register for an account, or if you already have one, log in and go to the services section and click on "Business Registration Service". 
Step 2: Business Name registration  
After completing Step 1 above, click on the "Make Application" button. Here you will be making an application for registering your business name.  
In this section, you will indicate the Preferred name of your business, Nature of business, Registered office address, Ownership information, Application documents. 
Your business name will be the identity of your business. It will take a maximum of 2 working days. This costs KES150 and can be paid using mobile money, debit cards. 
Upon completion of this step, a business name awaiting registration may be reserved for a maximum of 30 days. This period may be extended for 30 more days, where you will pay an amount like the initial application fee of KES150. This will allow you more time (30 days) before you complete the business registration process.  
In this step, ensure you meet the following requirements.  
Preferred Name 
Provide at least 3 preferred names in order of PRIORITY. The first available name will be automatically assigned to your business.  
Nature of business  
Applicant's details (Include full name as shown on your Identification Document or Passport), 

 
Capacity (Applying as the Proprietor or Lawyer- select proprietor if you are registering your own business) 

 
Application details (Select nature of business from the list 

available or

 choose 'other' if yours is not on the list.

 
Registered office address – Provide the details of where your business is located, as below: 
Primary address – county, district, locality

 
Name of building, plot No./Estate and house no,

 
Mobile number (in this format +254xxxxxxxxx)

 
Ownership information  
Add proprietor

:

 indicate names of persons starting the business. Use the 

"Add Proprietor"

button for each person and provide the following details for each: (a) Kenya national identification card or passport number (b) PIN certificate number issued by the Kenya Revenue Authority (not applicable to the persons who is not Kenyan residents)

 

For foreigners

 legally living in Kenya, such as refugees, click on the '

Foreign Residen

t' option as illustrated below and add the personal details required for verification. If you have the correct registration details, the system will verify and automatically fill in your Date of Birth, Full Name, and Gender details.

 

Add your place of residence 

details,

 County, District, 

Locality,

 and actual place of residence.

 

Attach your passport photo and click 'Submit'.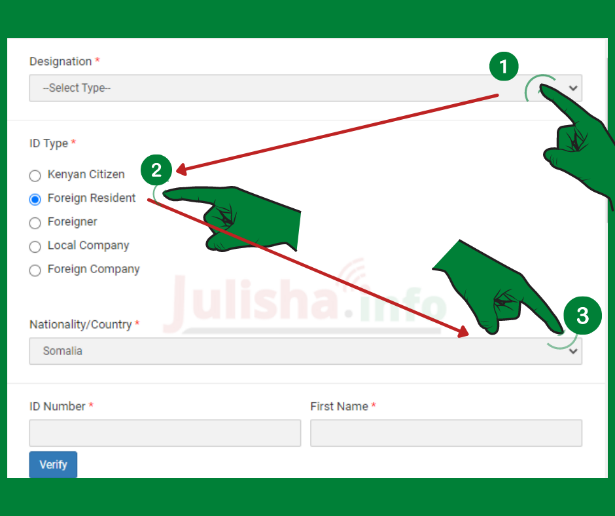 Application documents  
Once you have provided and submitted all the necessary details in No.4 above, the system will automatically generate a 'BN 2 Form' Download the BN 2 Form, sign it and upload it back to the system.  
Below is a sample BN 2 Form, showing where you should sign.
Step 3: Submission 
Once you have met all the requirements in Steps 1 and 2 above, you will be required to pay for the registration fees of KES. 950 on the website (eCitizen on business registration). It takes a maximum of 3-5 working days to have your application processed, however, the duration may vary depending on the number of applications. 
Step 4: Certificate 
The government of Kenya issues certification for all registered businesses. Once your registration application is approved, the certificate for your business will be available for download on the eCitizen platform where you made the application. You can print it out and use your Kenya Revenue Authority (KRA) PIN certificate to get a bank account that you will be using for your business. 
If you have any questions about this article, please write to us via the Julisha.Info Facebook page, Monday through Saturday from 08:00 a.m. to 5:00 p.m.