Coronavirus causes an infectious disease with a wide range of symptoms, from mild symptoms to severe illness. Symptoms may appear 2-14 days after exposure to the virus. People with these symptoms may have Covid-19:
Fever or chills
Cough
Difficulty in breathing.
Fatigue
Muscle and body aches
Headache
New loss of taste or smell
Sore throat
Congestion or runny nose
Nausea or vomiting
Diarrhea[i]
These are the most frequent manifestations, but the list does not include them all the possible symptoms.
You are advised to visit a health center or a hospital near you when you feel anything unusual.
In Kakuma you can visit:
| | |
| --- | --- |
| FACILITY | LOCATION |
| Kaapoka Health Centre (Main Hospital) | Kakuma 1 |
| Lochangamor Dispensary/Clinic (Clinic 4) | Kakuma 1 |
| Hong-Kong Dispensary/Clinic (Clinic 2) | Kakuma 2 |
| Nalemsekon Dispensary/Clinic (Clinic 5) | Kakuma 2 |
| Nationokor Dispensary/Clinic (Clinic 6) | Kakuma 3 |
| Ammusait General Hospital (IRC General Hospital) | Kakuma 4 |
| Natukubenyo Health Center (Kalobeyei Health centre) | Kalobeyei V1 |
| Naregae Dispensary/Clinic (Kalobeyei Village 2 Clinic) | Kalobeyei V2 |
In Dadaab, you can call the following organizations on the toll-free helplines:
FACILITY

LOCATION

Red Cross

Ifo Camp  

Dagahaley Camp  

Hagadera refugee camp hospital

Hagadera refugee camp
If you:
Test positive for Covid-19 but have no symptoms, or
Have mild symptoms of Covid-19 and can recover at home.
You should go into isolation, to protect other people, as recommended by health experts from the Ministry of Health in Kenya and the World Health Organization (WHO).
This means that you are separated from others, even in your home.
If possible, use a separate bedroom and bathroom.
Use your own personal items (like cups, towels, and toothpaste) and not share these with others.
Eat apart from the rest of the family.
If you have been in close contact with someone who tested positive for Covid-19 are asked to quarantine, meaning that your movements will be restricted for 14 days. This is because:
you may have been exposed to the virus and do not know it, or
you have Covid-19 but do not show symptoms.
Quarantine will help to prevent the virus from spreading to more people.
What to do when you test positive for Covid-19 and have no symptoms, or have mild symptoms?
If you test positive for coronavirus and have mild symptoms, healthcare providers recommend that you receive home-based care. This entails:
Staying home for ten days
Wearing a mask all the time – You can buy a mask in a local shop near you in the camp.
Socially distance as much as possible from people in your home.
Having a designated person to do your shopping and fetch water for you.
Cough or sneeze into the fold of your elbow or cover your mouth and nose with a tissue when you cough or sneeze and dispose of tissue in a dedicated bin or in a latrine.
Do not share personal household items, like cups, towels, and utensils.
Clean your hands often with soap and water for at least 20 seconds or with alcohol-based hand sanitizer that contains 60-95% alcohol.
An assigned Community Health Promoter (CHP) will pay you a home-visit daily and monitor your symptoms, in Kakuma and Hagadera.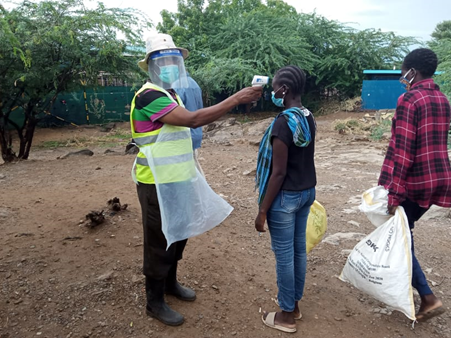 Photo by Kenneth Mwenda
It is important that you stay calm during this isolation period. Most people who get Covid-19 have mild symptoms and recover without needing to be admitted in hospital. You should also try to avoid interacting with people as this will reduce the risk of you infecting others.
What to do if you have been exposed to Covid-19, or have been in close contact with someone who tested positive for Covid-19
Stay home for 14 days. You may end your quarantine after 10 days if you do not have symptoms. However, continue to watch for symptoms for 14 days.
Watch for common symptoms of Covid-19 including fever, dry cough, tiredness, or shortness of breath.
Physical distancing: Try as much as possible to keep more than 1 meter (3 feet) between yourself and others.
Stay away from other people as much as possible. Wear a mask if contact with other people cannot be avoided.
Isolate yourself at home if you feel ill. Seek medical advice if symptoms worsen.
Seek medical attention if you experience any of the following:
If your symptoms are worsening or have not improved after 7 days
If you become confused or have difficulty concentrating
If you develop a new fever or your fever returns
If you develop chest pain
If your breathing becomes difficult, and the number of breaths you take in one minute is more than 25.
What to avoid when in isolation or quarantine.
Do not leave your home.
Do not go to work.
Avoid crowded places such as churches and mosques, public gatherings, social centers, shops, weddings, funerals, and food distribution centers, among other places.
Do not visit anyone.
Do not have visitors in your home.
Do not leave home unless you need medical care.
Watch the video below by the CDC to understand further the difference between Isolation and Quarantine.
Quarantine keeps someone who was in close contact with someone who has COVID-19 away from others while Isolation keeps someone who is sick or tested positive for COVID-19 away from others even in their own home.
Contact information.
If you feel unwell, have a cold or a cough or fever, please call 719 or dial *719# which is a toll-free number provided by the Government of Kenya.
You can also call the following numbers:
Nairobi                            0800721316 (tollfree) / 0732353535
Ifo refugee camp            0726368506/0725942928
Dagahaley refugee Camp - 0795759743
Hagadera, Garissa    0800720143(IRC)/ 0111207207 / 0110040836 / 011040708
Kakuma, Turkana      0758722023/ 0800720605 (IRC) for those in Kakuma Refugee Camp.
We would also like to remind you of alternative hotlines available in specific situations:
National GBV (Gender-Based Violence) hotline: 1195
Kenya police emergency hotline: 999/112
MSF sexual violence hotline (Doctors without borders): 0711400506
LVCT Health (Liverpool voluntary counselling and treatment for HIV): 0800720121
If you have any questions, please write to us via the Julisha.Info Facebook page, Monday through Saturday from 08:00 a.m. to 5:00 p.m.