If you live in Dadaab or Kakuma camp and you need a reliable source of information, radio is a good option to access life-saving information.
You can turn on your radio and tune in to 'Bilan' and 'Sauti ya Mwanamke', two radio shows created and broadcasted by the international organization Internews.
The two radio shows share trusted, timely, and life-saving information for people living in Kakuma and Dadaab.
How are the Radio programs structured?
Airing on 90.1 FM Kakuma and Kalobeyei, 97.1/2 FM in Dadaab and 105.9 Star FM in Nairobi, the show is a one-hour live talk show and is hosted by a female presenter from the community.
Listeners call in with their reactions and comments to the topics under discussion. The host also reads listener feedback on air and allows for agency expert(s) present during the show to respond.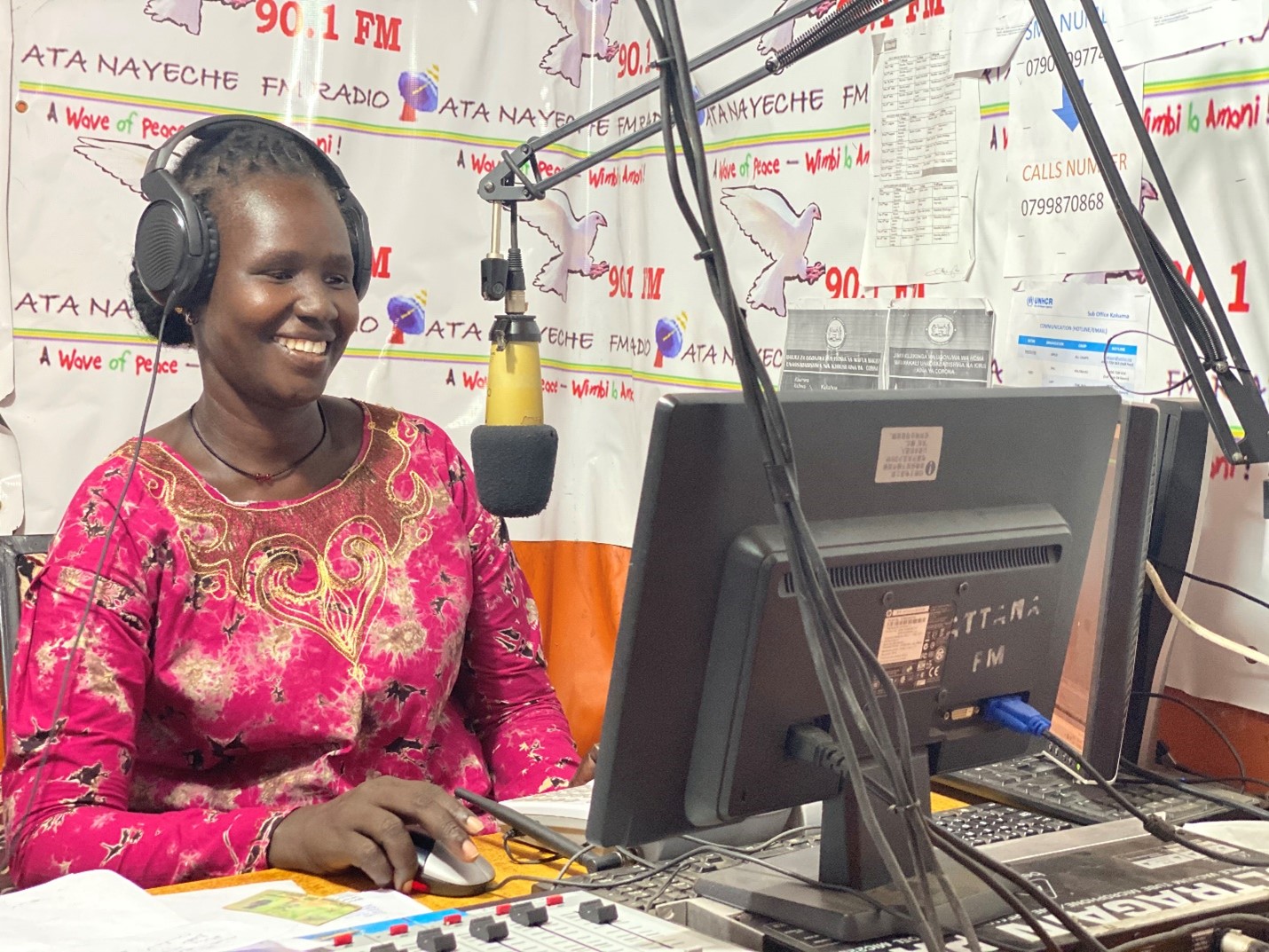 Rose Kapengi of Radio Atta Nayece, while hosting a show at the community radio station studios in Kakuma in November 2020. Photo Stellar Murumba @Internews.
In Kakuma, the show airs live from 7:30 pm to 8:30 pm on Saturdays, then a repeat of the show is aired at the same time on Sunday.  In Dadaab and Nairobi, the show airs live from 11:00 am to 12:00 pm on Saturdays, and a repeat is aired at the same time on Sunday morning.
The show has a diverse set of panelists including refugees, asylum seekers, host communities, experts on refugee issues, refugee aid workers, government officials, doctors, and lawyers.
Feedback
Listeners call into the live show and send questions and comments via SMS and social media; panelists answer them on air.
Kakuma and Kalobeyei send SMS to Radio Atta Nayece via SMS to 0799870868
Nairobi and Dadaab send to Star FM and Radio Gargaar on USSD 22960.
The radio stations are also active on social media post regularly on Facebook 
 & Twitter.
If you have any questions, please write to us via the Julisha.Info Facebook page, Monday through Saturday from 08:00 a.m. to 5:00 p.m.